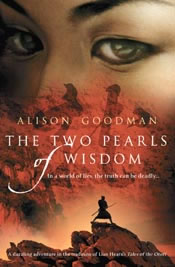 The Two Pearls of Wisdom is an alternate title for the book Eon or Eon: Dragoneye by Alison Goodman. It centers around a young girl named Eona who has taken on the name Eon to mask herself as a twelve-year-old boy, so that she will get the privilege to become a Dragoneye, and control the elements.
Publication
Edit
The Two Pearls of Wisdom was published on August 1, 2008 in Australia. It won the 2008 Aurealis Award for best fantasy novel, and was named a honor book in the 2008 James Tiptree, Jr. Awards. It was also named a notable book in the 2009 CBCA Awards.
Ad blocker interference detected!
Wikia is a free-to-use site that makes money from advertising. We have a modified experience for viewers using ad blockers

Wikia is not accessible if you've made further modifications. Remove the custom ad blocker rule(s) and the page will load as expected.