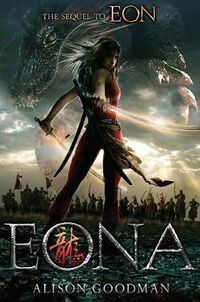 Eona: The Last Dragoneye is the second book of the Eon series by Alison Goodman.
Eon has come out as "Eona" and admitted she was a girl all along. Luckily, people have accepted this, and she has become a Dragoneye. The only issue is that she cannot control her power. Every time she tries to bond with her Mirror Dragon, she becomes a conduit for the ten spirit dragons whose Dragoneyes were murdered by Lord Ido. In addition, Sethon has declared himself emperor and killed Prince Kygo's infant brother giving him only one threat. Eona must stop him now or die.
While trying to save herself and Lord Ido she kills Dillon using the death chant and steals the black folio later using it to save the dragons and kill Ido.
Ad blocker interference detected!
Wikia is a free-to-use site that makes money from advertising. We have a modified experience for viewers using ad blockers

Wikia is not accessible if you've made further modifications. Remove the custom ad blocker rule(s) and the page will load as expected.