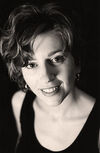 Alison Goodman is the author of the Eon series. She is an Australian writer with a masters degree in creative writing from RMIT University. Her first book was Singing the Dogstar Blues, which was published in 1998. The Two Pearls of Wisdom is her third novel.
Ad blocker interference detected!
Wikia is a free-to-use site that makes money from advertising. We have a modified experience for viewers using ad blockers

Wikia is not accessible if you've made further modifications. Remove the custom ad blocker rule(s) and the page will load as expected.